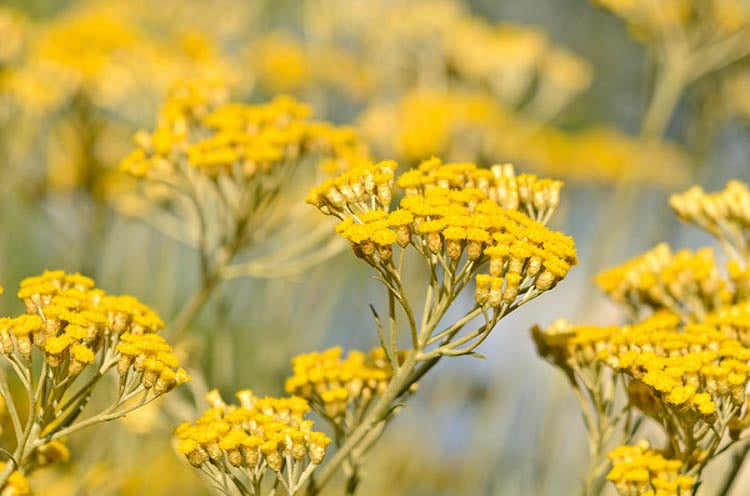 By Jasmina Halimic on November 4, 2021
Once upon a time, when I was a little girl, my grandmother told me the story of the Greek mythical hero, Ulysses, and how during his odyssey, he was shipwrecked on an island called Phaeacia. There he met a princess who was renowned for her beauty. The princess told Ulysses her beauty came from oils she made with yellow flowers that look like little suns. She then used this same oil to help Ulysses heal and recover from the shipwreck. 
The flowers were called Immortal flowers (Helichrysum Italicum). The Immortal flower, a small shrub with bright yellow flowers, is renowned for its ability to iron out wrinkles and naturally heal wounds by stimulating collagen. 
Helichrysum Italicum (Immortal flower) grows wild in the Mediterranean Basin, in Bosnia and in Croatia where my grandmother collected and processed these 'little suns' by using an ancient traditional recipe.
Our Immortelle flower maceration recipe is the same as my grandma made it back in the 80's….long before the modern world learned about this plant's incredible medicinal healing and anti-aging benefits. 
Our own in-house biodynamic plant macerations and extracts, combined with top skincare heroes like niacinamide and hyaluronic acid, is what makes Jasmina Beauty so unique and exceptionally effective.
Jasmina Beauty products that contain this exceptional precious ingredient:
Lacrimosa ~ Restorative Facial Mist
Viso D'Arte ~ Rejuvenating Superfood Skin Serum
 Vivace ~ Active Recovery & Protection Day Cream